San Diego residents are reporting shaking continuing in the area. The shaking, according to the USGS, is likely due to the Easter quake this year which rocked the region.
Twitter is rolling with reports of rainbow cloud over Los Angeles today. Reports are coming in that this looks similar to before both the China and Chile quakes where residents reported and took photos of such events in the sky.
While no one can be sure what it means, people should always be prepared for a major Earthquake in Southern California as it is seismically active.
End story - Comment below to interact -
Nicholas Gumina from Whittier, California - "Same thing before the China and Chile quake."
TheWeatherSpace.com Main Weather News Tornado News Earthquake News Space News Volcano News Environment News Political News
Share with friends or family here - | Hey do not forget to comment below, It's free.
May 13, 12:50 PM Pacific Time - TheWeatherSpace Earthquake Stories - Jim Duran - Contact
[img][/img][img]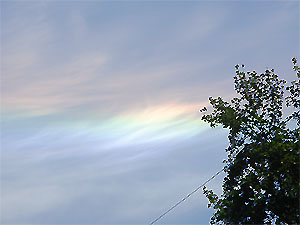 [/img]